FEIN Brandworld at ToolTeam
Welcome to ToolTeam's FEIN brand world. Here you will find all information about the company, the products and downloads.

FEIN is renowned as a globally active company with roots in Germany that is synonymous with high-quality POWER TOOLS and ACCESSORIES, designed for the toughest jobs in industry and manual trades. Having laid the foundations by inventing the electric hand drill, the first power tool in the world, in 1867, Wilhelm Emil Fein founded the FEIN company. FEIN now holds more than 700 active industrial property rights, including around 500 patents and patent applications. FEIN focuses on products and SERVICES that are ideal problem solvers for METALWORK and are marketed by over 16 subsidiaries and more than 50 offices around the world.



Top Fein Products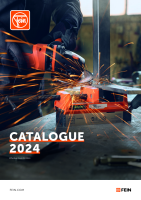 Commercial customer offer**
The offer is aimed exclusively at business customers, companies, public institutions, tradesmen and freelancers. All prices in catalogues are exclusive of VAT, shipping costs and surcharges if applicable. The manufacturer is exclusively responsible for the content, price and article details of the products and offers presented in the catalogues. Subject to technical and optical changes by the manufacturer and errors excepted.



We offer you the full product range!
Request your personal offer now.