Eibenstock brand world at ToolTeam
Welcome to ToolTeam's EIBENSTOCK brand world. Here you will find all information about the company, the products and downloads.

The professional products from EIBENSTOCK, which were developed for tough construction site use and industry, are used by numerous professional groups who value the quality and robustness of the devices in daily use. EIBENSTOCK power tools are produced in Saxony in the Ore Mountains. The company has decades of tradition in the development and construction of power tools for industry and trade.

ToolTeam naturally offers you the full range and our procurement service will be happy to help you with special orders. We hope you have fun shopping.





Top Eibenstock Products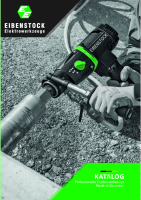 Commercial customer offer**
The offer is aimed exclusively at business customers, companies, public institutions, tradesmen and freelancers. All prices in catalogues are exclusive of VAT, shipping costs and surcharges if applicable. The manufacturer is exclusively responsible for the content, price and article details of the products and offers presented in the catalogues. Subject to technical and optical changes by the manufacturer and errors excepted.



We offer you the full product range!
Request your personal offer now.